Meet Caitlin Bennett x The Great Beyond
Meet the wonderful Caitlin from Sundholm Style, a fashion stylist, writer & trainer at the Australian Institute of Creative Design in Brisbane. Caitlin loves to empower women through through their perspective on fashion with her styling service. As Caitlin says "I want fashion to become a way to simply tell a story about the inner beauty that exists within all of us."  Not only is Caitlin on  mission to enlighten others through fashion, she interviews emerging talent from Brisbane & has featured us too! The team at The Great Beyond wanted to get to know Caitlin a little bit more on her life, family and all things fashion. See the full interview below and make sure to visit her website here and follow her on Instagram @sundholmstyle
TGB: When did you fall in love with fashion?
CB: Fashion is something that has really grown on me over time. I have always loved experimenting with fashion (I started wearing platform thongs when I was ten!), but I think I really fell in love with it when I first started working in retail after finishing university. I saw how much a great outfit could transform a woman's confidence, mood and perception of herself. The best part would be seeing a woman continue smiling even after she changed out of the outfit. Clothes are like a little magic trick for improving your mood and making you feel like the best version of yourself.
TGB: Best advice your mother ever gave you?
CB: Smile and make friends with everyone you meet. My mum is always warm, generous and has a sparkle in her eyes! She has taught me to never underestimate how important it is to be kind to people and to take care of your friends. She is loved by a lot of people and she is a great example that what you give out to the world is what you get back.
TGB: Why did you create Sundholm Style?
CB: Sundholm style was actually inspired by my mum! Sundholm is her maiden name! A little bit tricky to spell because she is Finnish-Swede! I've always admired my mum a lot and found her so inspiring. She was actually one of the first women to graduate medicine with honours in the 70s, and continued to specialise all the while raising myself and my three sisters. I have also always loved the way she dresses- beautiful floral prints and bright coIours and we used to bond over coffee and shopping trips. I created Sundholm Style as a way to share this inspiration that I felt from my mum with the rest of the world. Sundholm Style is my little platform to share inspiring stories, connect with people and provide a personal perspective on fashion.
TGB: Skirts or Pants?
CB: Pants! Even though I have a pretty feminine style, I love how powerful pants can make a woman feel. I always walk taller in pants and feel more confident- especially in a pair of wide legs. I love the way they can complement your figure without being revealing!
TGB: Instagram or Facebook?
CB: I would have to say I love Instagram because it is so visually inspiring. I love scrolling through it to find new fashion ideas from all over the world!
TGB: What is your dream holiday destination?
CB: I have been crushing on Hawaii ever since I saw this surfing movie called In God's Hands years ago! The scenery was just incredible and I love how much nature has to offer there! One day I would also love to see Carnival in Rio!
TGB: Where do you get your fashion inspiration from?
CB: I love to read magazines, watch fashion runways and also look at street style photos from the major fashion weeks around the world. I love how creative and out-there the outfits are at fashion week, there doesn't seem to be any rules, and I find that freedom really inspiring.
I think that we often restrain our style according to what we feel is "acceptable" in the context in which we are living. I think that deep down we all want to be seen, but many of us are actually afraid of standing out. I love how runways, editorial shoots and passionate street stylers celebrate art and fashion with out restraint and I hope to start seeing more of this in every day life!
TGB: On that note, who is your style icon?
CB: As I mentioned, my mum would have to be my number one style icon! I also love 70s style icons like Brigitte Bardot and Marisa Berenson. And Carrie Bradshaw of course! She is a true style chameleon. She always dresses for the occasion and her mood and I love the way she pulls things together!

TGB: What's your favourite Orbit collection design?
CB: I think they are all amazing! If I had to pick one it would be the Helene Dress. It is the perfect white shirt dress and just falls amazingly! Its classic, yet modern cut can be styled in so many different ways to get completely different looks! The fabric is also so soft, you could almost forget you are wearing it!
TGB: Favourite movie?
CB: My favourite movie of all time is an older one called Meet Joe Black. It is a remake of Death Takes a Holiday and it explores what it is to be human.
It's also a beautiful romance, and I am a big sucker for romantic movies! The fact that Brad Pitt is the main character is also a major positive point to the movie 😉 Here is the link to one of my absolute favourite scenes from the movie and all time! It's really simple but beautiful.
TGB: Words of wisdom to live by?
CB: A quote from my mum. "If the cookie is crumbled, the calories don't count."
It's a great excuse to have another bikkie. But to me, it also means to remember to treat yourself, have fun and see the lighter side of life!
TGB: Describe your style using a colour and an animal
CB: Blue: I always get inspired by the ocean, especially a crystal blue beach with white sand! I love putting a beachy-spin on my style, so I would have to say blue!
Golden Retriever: Fun, playful and makes me smile 🙂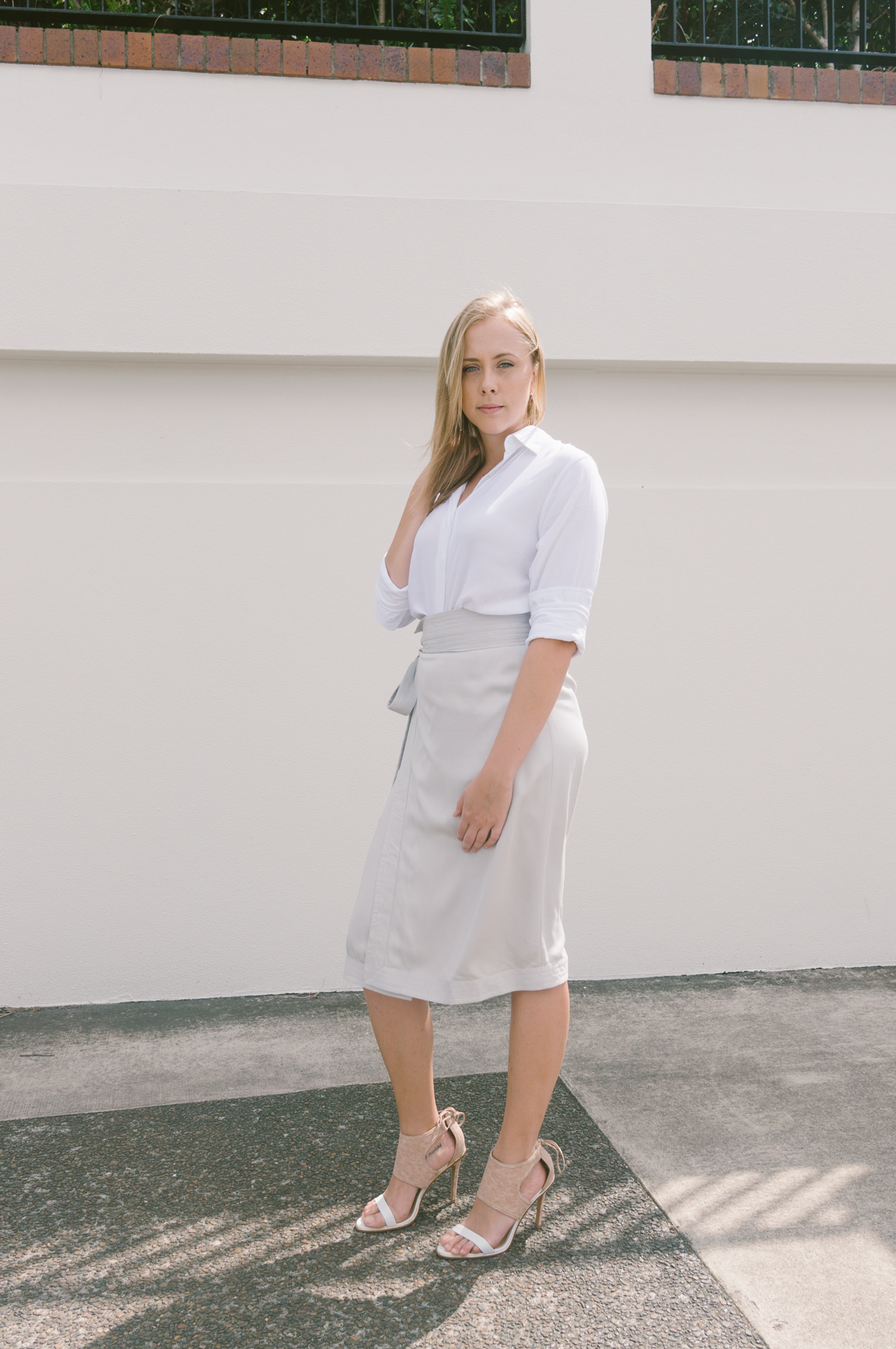 Shop Caitlin's Favourite Picks & Shoot Looks