Our Top 5 Australian Vegan Instagram Babes
In this edition of Insta & Inspire, we count down our top 5 Australian Vegan Instagram personalities who defy the mainstream and spread through-out the Insta-world a positive and compassionate lifestyle. We have been fortunate enough to have worked with two of the beautiful women in our list Loni Jane & Jenna McCawthray! Check them out below
1. @LoniJane
Loni's Instagram feed will leave you salivating from greener than green juices to scrumptious banana ice cream. Author of the book Feel the Lean (which you can purchase here), where she donated previously $15,000 of the books sales to Unicef and Charity Water. She is quite an incredible women, if you haven't already I would check out her recipes and lifestyle tips via her Instagram here.
Jenna is a Gold Coast based lifestyle blogger who shows her life adventures with a Vegan twist! From sailing through Fiji to showing off her favourite places to visit in Australia. She has such a vibrant personality that since she has launched her youtube channel (which you can follow here) we haven't missed a video! Make sure to keep up to date with Jenna via her Instagram here.
Essena dominates the Youtube and Instagram world with a combined dedicated following of 600,ooo+ and just by looking at her imagery you can see why. With a love for amazing holiday destinations, vegan treats and spreading positivity through-out the world, she is quite an amazing women. Dive into the world of Essena Oneill here on Youtube or follow her on Instagram here.
The 23 year old Vegan vlogger with a love for all things natural, on her channel she shares her Vegan journey from how to handle non-vegans to her experience at Thai FruitFest. Her enchanting personality will win you over, plus she shares her friendship with other vegans such as Essena & FreeLee. Visit her Instagram here and watch you Youtube here.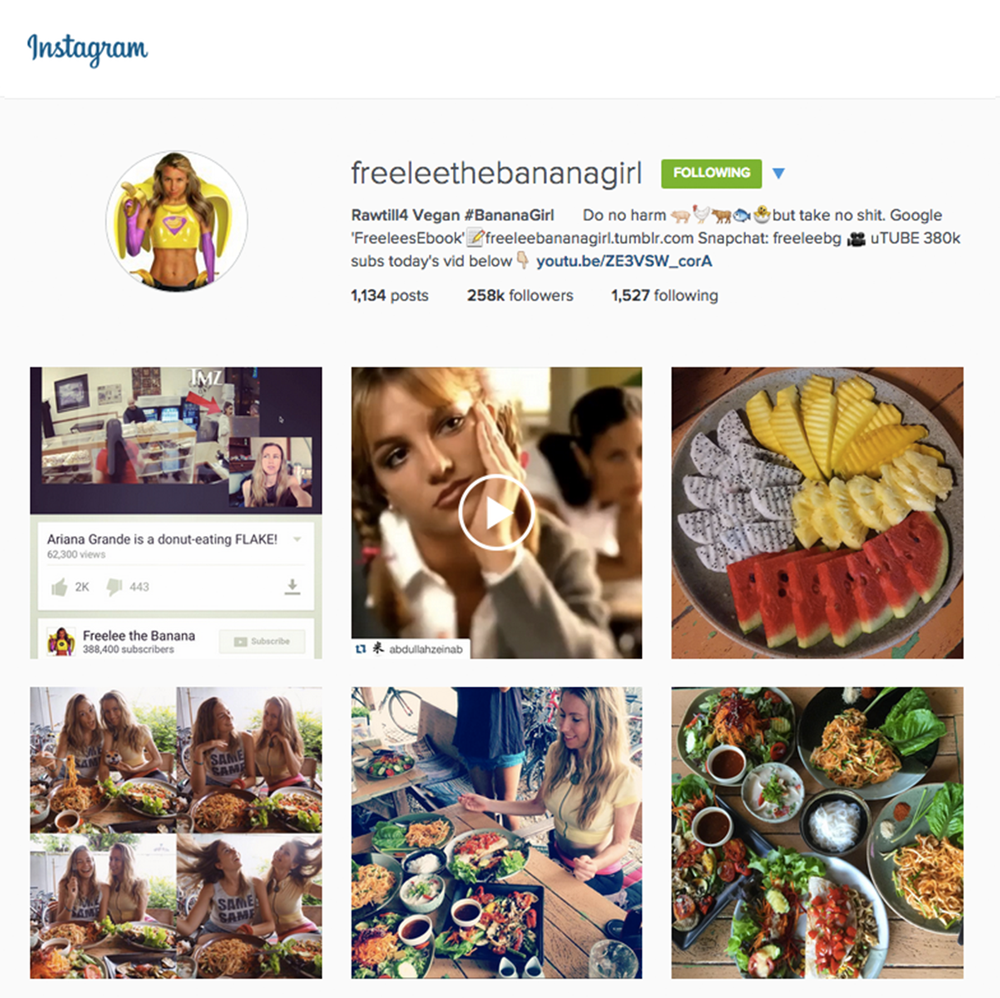 Freelee leads the pursuit of ending a world of animal cruelty through spreading the word on how to live a fruitful vegan lifestyle. Although controversy seems to follow her, she is a voice of inspiration for many Vegans and we wouldn't change a thing about her! Make sure to visit her YouTube channel here and check out her Instagram here.
Make sure to follow & visit The Great Beyond | Instagram @wearethegreatbeyond | Facebook | Tumblr | Website